Temp2Higher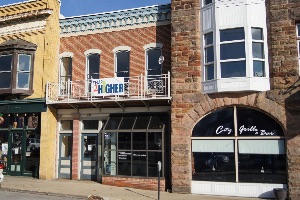 Here at North End Community Improvement Collaborative (NECIC) we have expanded our workforce development efforts with the 2016 launch of our own staffing division, Temp2Higher.
"Temp2Higher is a social enterprise staffing service," said Temp2Higher Director Mary Bolin. "What that means is that we're still working in the traditional staffing world, but our goal is to find people full-time, permanent employment within ninety days, maximum."
Overcoming barriers to Employment
NECIC's mission is to improve the quality of life and economic landscape in Mansfield's North End, and Temp2Higher falls securely within that mission.
"We find that all of the areas that we are working in, in terms of the community economic plan, are predicated by the person being able to have a job," said NECIC Executive Director Deanna West-Torrence. "Our goal is to help people as they are trying to transition to full-time employment, regardless of their barriers."
The focus on workforce development has allowed Temp2Higher to assist people in overcoming the barriers some may face, and even offering a stipend to participants to attend classes.
"Our philosophy is their time is as valuable as ours," said Bolin. "We may be helping them get ahead, but they are still sitting in class with bills to pay."
West-Torrence said the company is focusing on systemic barriers, but also things as simple as supporting a worker who may be lacking a meal to get them through class.
"What we realized is that people coming through our door need help other than a job. They need help with transportation, child care, or understanding finance," Bolin added.
"We don't think that people want charity. We think people do, by and large, want to work. But everyone's challenges to going to work are very different," West-Torrence explained. "To be eligible for many services, you have to be able to show a lack, so the spotlight is on your lack. But you can't build on something that doesn't exist. Getting a job requires a different set of skills, and most people need a hand up instead of a handout. You have to meet that person where they are."
"When we built Temp2Higher, we looked at the individual, the business, and the community," West-Torrence said.
More than a Job: Impacting the Community
She noted that many employers in the community utilize temporary staffing services, and said NECIC looked for ways that Temp2Higher could offer employees solutions that a traditional staffing service cannot provide. "There are assets that we bring to the table, being a nonprofit, that compliment and help our local businesses, the people in our community, and the community at large," explained West-Torrence.
"It's not just about helping people find jobs, it's about impacting the community. Now they can buy homes, buy a car, become part of their community," said Bolin.
"At the very basis of our work is the person, and a person must meet their basic needs before they can move on to larger issues," said West-Torrence.
In the short time since Temp2Higher's launch, the staffing company has permanently placed 100 employees. "To us that's a good sign that we're making a good fit," Bolin said.
Temp2Higher is located at 31 East Fourth Street, Mansfield, and may be reached at 419-522-1611 or www.Temp2Higher.org.